Matt Becker Wins MLF Stage Seven and 2023 Bass Pro Tour AOY
Matt Becker Makes History on Saginaw Bay
FishUSA has been incredibly proud to have Matt Becker as a member of our Pro Staff for years, but yesterday he accomplished a milestone all professional bass anglers dream of. Matt earned his first Bass Pro Tour victory by defeating none other than Kevin VanDam (the winningest pro in bass fishing history) AND won Angler of the Year in his ROOKIE SEASON! A rookie has not claimed an AOY title on a national circuit since Shin Fukae did on the FLW Tour over 20 years ago. As if all of this wasn't incredible enough, Matt caught the largest 5 fish limit of the tournament on the final day to secure his win by an over 5 pound margin. Each of his final-day fish was caught on the FishUSA exclusive Yamamoto Shad Shape Worm color "Becker's Magic Juice." Let's dive into just how Becker accomplished all of this and look at the equipment he trusted on the most important day of his career.
Matt and family celebrate a special moment on stage - Photo Credit: Major League Fishing photographer Garrick Dixon
It's no secret that Matt Becker and smallmouth get along quite well. Becker won an FLW Costa Series event on the 1000 Islands when he was just 25 years old to jump start his professional fishing career. He also grew up in the suburbs of Pittsburgh, allowing him to frequently fish the waters of Lake Erie located just minutes from our doorsteps here at FishUSA. It's doubtful that Becker knew all of this big water smallmouth experience would allow him to be triumphant on the most important day of his fishing career, but it's funny how life works sometimes.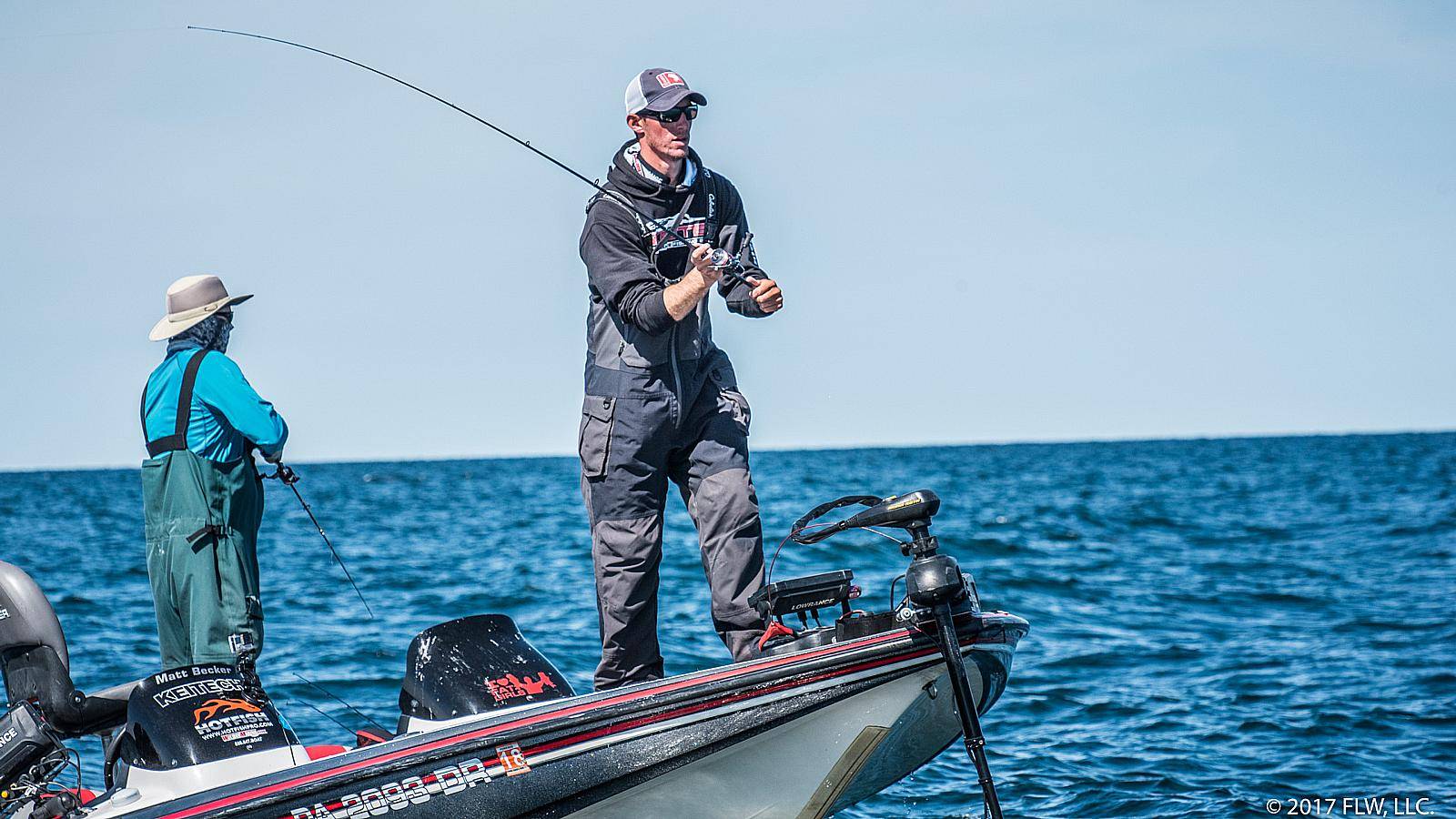 A young Matt Becker hunting for Lake Ontario smallmouth - Photo Credit: Charles Waldorf
Championship Sunday Heroics
There were a few key moments during the week that allowed Becker to narrowly squeeze into the top 20 cut. Becker targeted smallmouth on the first day of the tournament which turned out to be an absolute grind, landing him in 26th place. Knowing he needed to move up the standings and not having the confidence that smallmouth could do it for him, Becker switched up his game plan and went after largemouth. A late day decision to run 10 miles across a bumpy Saginaw Bay produced a last minute 3lber which gave him just enough weight to sneak into the knockout round. Without that fish, Becker's tournament and season end right there.
Knowing that he'd need to find some big smallmouth to win Stage Seven, Becker headed back out to the big water the next day. He sacked up around 18lbs which had him in 5th place going into Chamionship Sunday. Needing to beat Jacob Wheeler (the two-time defending AOY and #1 ranked bass angler in the world) and Ott Defoe (former classic champ and decorated angler) by at least 4 places to claim the AOY title, Becker was faced with a daunting task. Not only that, but to win the tournament Becker needed to best Kevin VanDam in his last regular season event ever in his home state of Michigan. Stuff that is only accomplished in fairy tales.
However, an open and optimistic mind (and Becker's Magic Juice Shad Shape Worms) is a powerful thing. On the morning of Championship Sunday, Becker elected to stay close to the ramp. This strategy allowed him to catch a few keepers, calm his nerves, and judge the intensity of the wind. Late that morning, Matt decided to brave the wind and nasty weather and run to the Charity Islands area of Saginaw Bay. He fished a small stretch that he had caught a fish on in the knockout round, and it happened to be loaded with 4 and 5lbers this day. Becker admits that he doesn't really know why they were there, other than it was purely "meant to be." There was just a school of 10-15 fish that he was able to pick off with his livescope. He caught a 3-12 and 4-14 almost immediately, extremely key fish on a day with such inclement weather and tough fishing conditions. He closed out the second period by adding another 3-12 and a 4-6. Becker now had the lead over KVD who had a very respectable 18lb limit, but that wasn't the end of his run. Becker landed a dagger 5-5 smallie to increase his lead to 5lbs, a near insurmountable margin given the fishing conditions and ticking clock. Although comfortably in first, Wheeler and Defoe were giving it their alls to make a jump up the leaderboard and secure AOY. Fortunately for Becker, the two finished below the top 5, allowing the BPT rookie to sit atop the points race with a score of 461.5.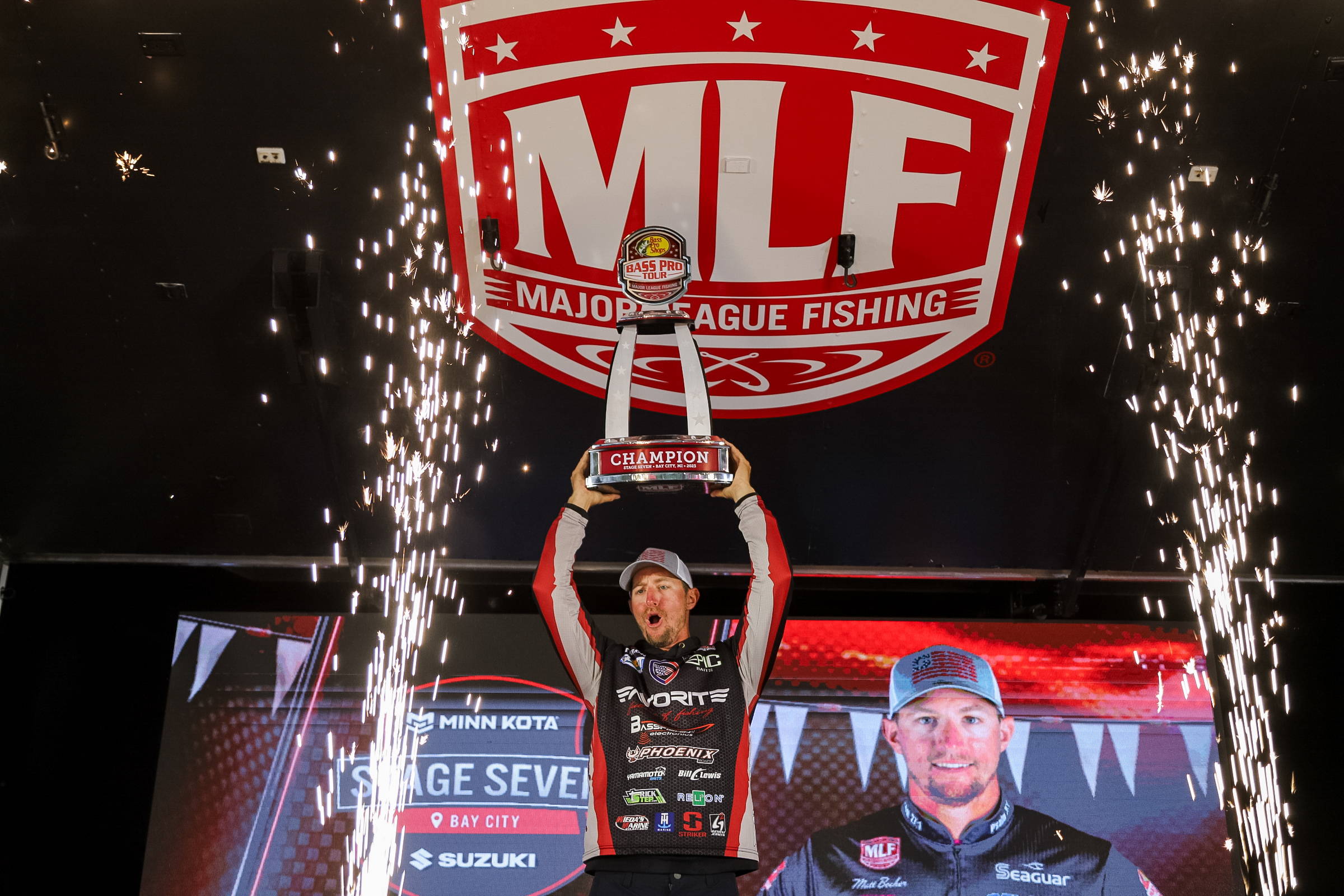 Hoisting the Stage Seven trophy - Photo Credit: Major League Fishing photographer Phoenix Moore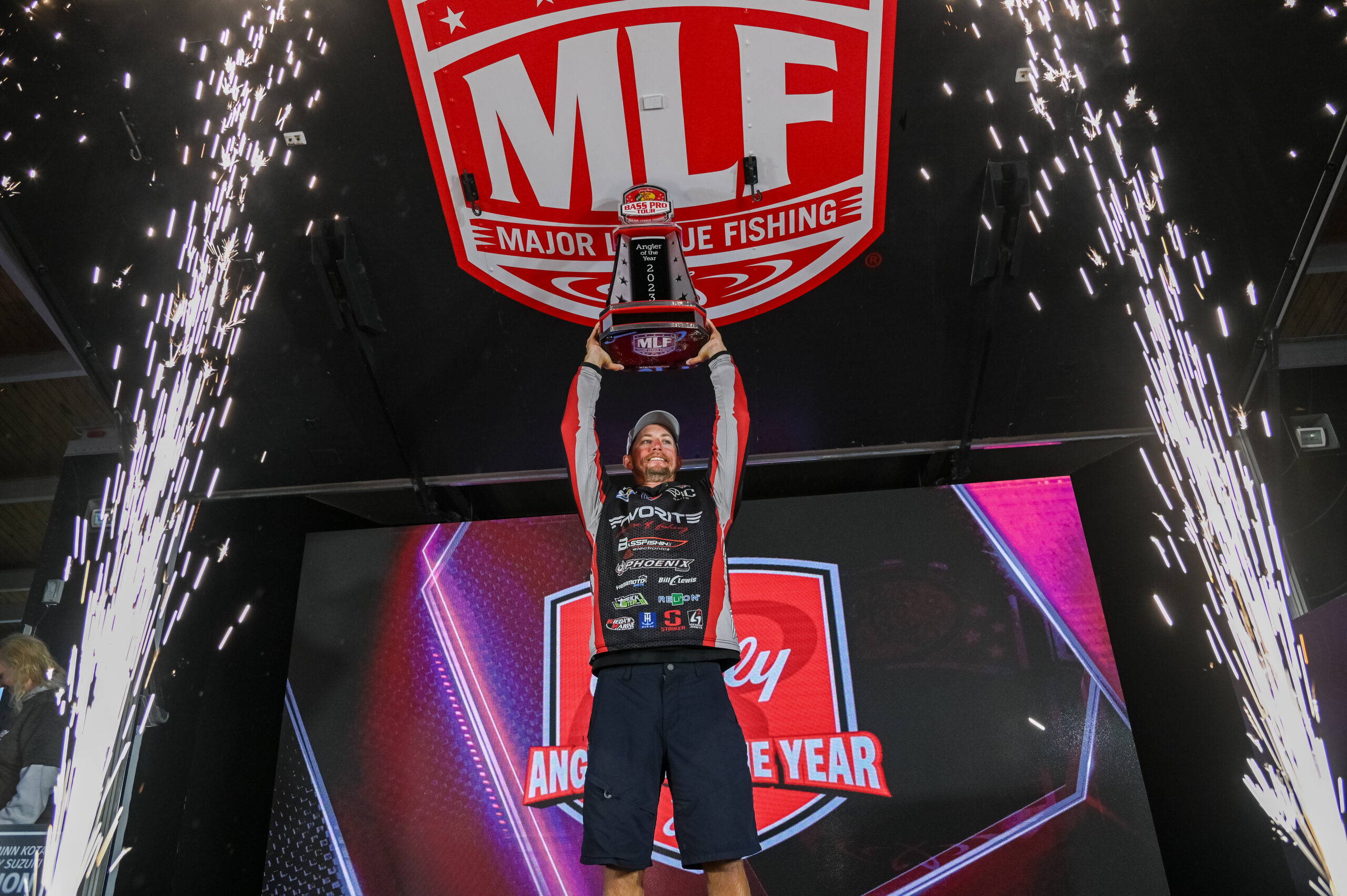 Getting to hoist a trophy of this caliber is something all pro's dream of, and Becker got it done in his rookie season - Photo Credit: Major League Fishing photographer Garrick Dixon
On a day as crucial as this in an angler's career, you can trust that they're using equipment they 100% believe in. Take a look at what Matt used to finish his season on top.
A staple drop shot bait for smallmouth for many years
"Becker's Magic Juice" Matt Becker's creation only available at FishUSA
Designed specifically to be deadly for Great Lakes Smallmouth
Excels in cloudy weather and rough water conditions
A size 4 pairs well with the Shad Shape Worm and is what Matt used to put all his big fish in the boat
Strong enough to not fail on big Great Lakes smallmouth, yet thin enough to bury with a spinning rod and braid
Tungsten drop shot weights increase your sensitivity by an exponential amount
Matt used a 1/2oz to maintain constant bottom contact in 18-20fow in the windy and wavy conditions
Braid is a must when dropshotting as it allows you to feel very well and get an excellent no-stretch hookset
Matt used 15lb as his mainline
Becker used 10lb Tatsu as a leader off of his Smackdown braid
Amazingly strong, supple florocarbon makes it excellent for leaders or mainline
Excellent when fishing around abrasive structure on the Great Lakes
Fuses two custom 100% Floro resins
Becker used a MH Favorite Hex Series Spinning rod to put all of his hard-fighting smallmouth in the boat. We are extremely proud to call Matt a Pro Staffer and can't wait to see what he does in the future!