Matt Becker's FishUSA Exclusive Color Yamamoto Baits
The First Exclusive Yamamoto Colors Ever Made
Yamamoto Baits - a company responsible for creating several soft plastic baits that will go down in history as some of the most effective ever made. You'd be hard pressed to find a bass angler that doesn't have a pack of Yamamoto Baits in their boat or tackle bag. It's for these reasons that FishUSA is honored to be the FIRST to have exclusive color baits in the Yamamoto lineup. FishUSA Pro Staffer and 2023 MLF Bass Pro Tour AOY Matt Becker designed two colors of Yamamoto Baits that have absolutely taken the bass fishing world by storm! One color in the legendary Senko and another in Matt's personal favorite, the Shad Shape Worm. Let's dive into these baits and take a look at what makes each one unique.
"Becker's Magic Juice" Yamamoto Shad Shape Worm
The Yamamoto Shad Shape Worm is a legendary dropshot bait, and Matt Becker has quite a history with it and Great Lakes smallmouth bass. He has won multiple Lake Erie tournaments with this particular bait, a Toyota Series tournament on the 1000 Islands, and, most recently, Major League Fishing Stage Seven at Saginaw Bay. Who better than to design a unique color of this bait! Becker describes his custom creation as a combo of a few of his favorite colors. The bait is characterized by a dark Green Pumpkin back and a Natural Shad belly with black, silver, and gold fleck mixed in. Smallmouth candy! Becker says that this color "is super natural and imitates a bunch of different forages" and was designed to excel in cloudy, rainy, and dark conditions. Ironically, the most important day of Becker's career mirrored these EXACT conditions and took place on Saginaw Bay, one of the more challenging Great Lakes smallmouth playing fields. Matt used his FishUSA exclusive Yamamoto Shad Shape Worm color to put over 22lbs of smallmouth in the boat on the final day. This not only won him the tournament, but gave him enough points to secure the title of Angler of the Year for the 2023 Bass Pro Tour season. Safe to say Becker trusted his color when it mattered most!
A close up look at the "Becker's Magic Juice" Shad Shape Worms
How To Rig the Yamamoto Shade Shape Worm
The Shad Shape Worm can be quite effective rigged a number of way. It's deadly on a jighead as a Damiki rig or on a ned or shaky head and drug on bottom. However, a dropshot is by far the most effective way to fish this bait. As you can see by the photo to the right, the Shad Shape Worm is simply nose hooked on a Size 4 Trokar Octopus Drop Shot Hook, similar to how you'd hook a live minnow. A 1/2oz Epic Tungsten Drop Shot weight is tied onto the line about a foot below the bait. 10lb Seaguar Tatsu Fluorocarbon is tied to 15lb Seaguar Smackdown Braid. This simple rig will put a lot of smallmouth in your boat!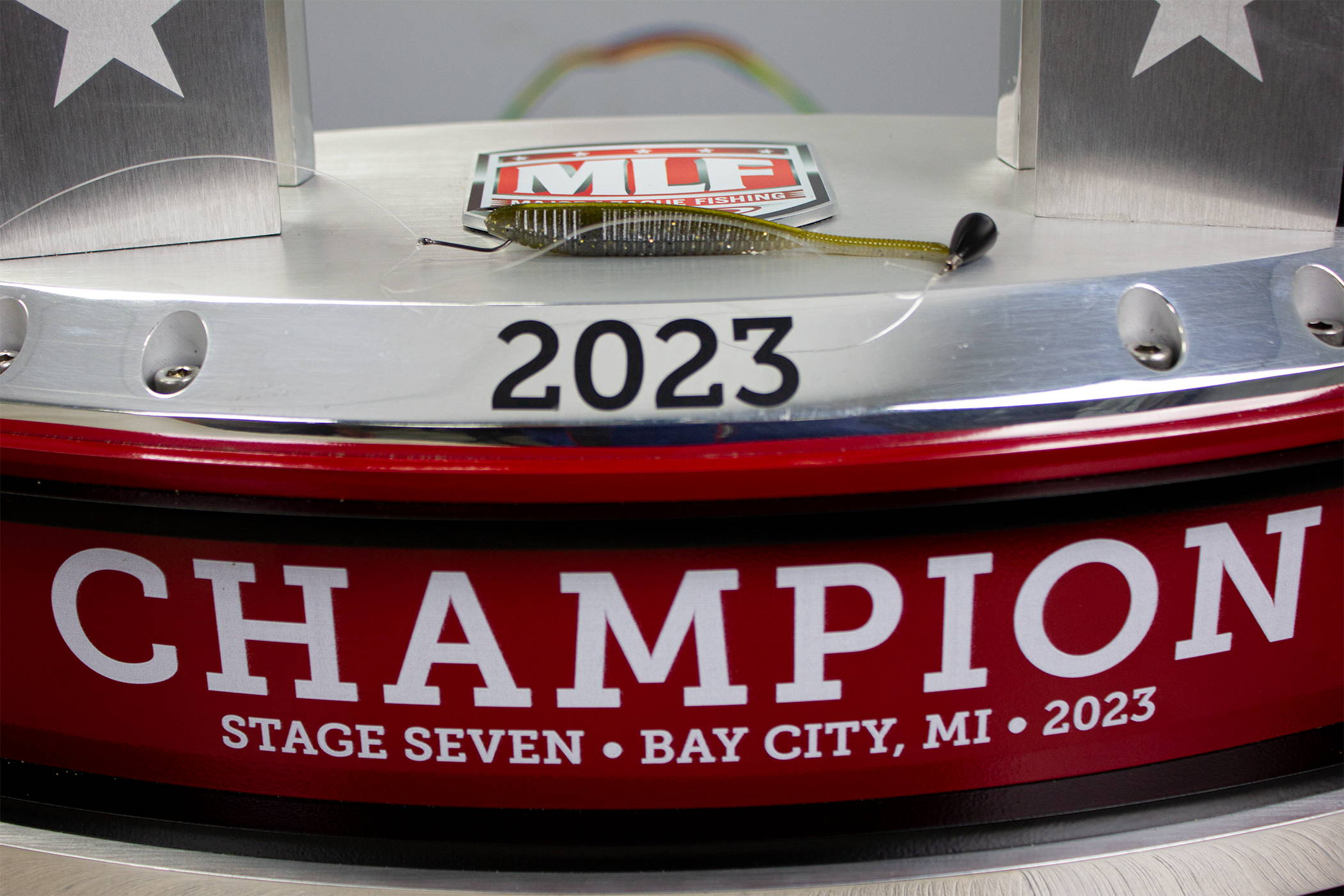 Bait Specifications:
"Becker's Magic Juice" pictured

Dark Green Pumpkin back, Natural Shad belly
Black, silver, and gold fleck

Ideal dropshot bait
Soft yet durable plastic construction
Natural baitfish presentaton
"Becker's Black Magic" Yamamoto Senko
The Yamamoto Senko is arguably the most effective bass lure of all time. There's hardly a time or a place that the Senko can't get a bite, and Matt Becker found a way to make it even deadlier. Matt's FishUSA exclusive Senko is called "Becker's Black Magic." Take one look at it and you'll see why. "It's your classic black and blue flek standard fish catcher, but I added some silver flake in there so whenever this bait is falling or you're working it around that silver flake flashes and it really triggers some bites" said Becker of his custom creation. Becker may not have won $200,000 with this one yet like he did his Shad Shape Worm, but we have a good feeling that it's only a matter of time.
Bait Specifications:
"Becker's Black Magic" pictured

Classic black and blue fish catcher with silver flake mixed in

One of the most proven fish catchers of all time
Ribbed worm body
Stuffed with salt
Extremely versatile
"Becker's Magic Juice" and "Becker's Black Magic" have been such a huge hit that we've asked Becker to design a few more colors for us. We think you're REALLY gonna like what's coming soon, stay tuned...